The 2021 Subaru Love Promise Customer and Community Commitment Award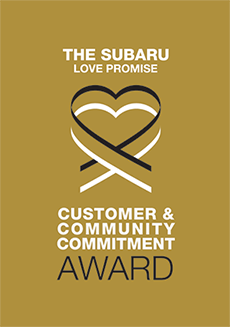 We've been nationally recognized for our dedication to our customers, our community, and the Subaru Love Promise.
We're honored to receive the 2021 Subaru Love Promise Customer and Community Commitment Award. This award nationally recognizes elite Subaru retailers who provide an exceptional customer experience at every interaction with Subaru. These retailers have also demonstrated an outstanding commitment to supporting passions and causes in their local communities in important areas such as the environment, community, health, education, and pets.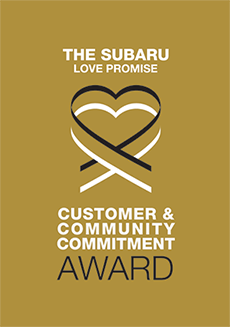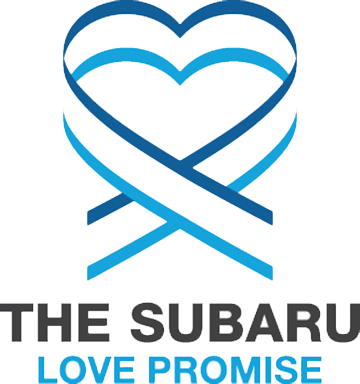 What is the Subaru Love Promise?
Subaru and our retailers believe in making the world a better place and the Subaru Love Promise is our vision of respecting all people. This is our commitment to show love and respect to our customers and to work to make a positive impact in the world.
How is Delaney Subaru dedicated locally to the Love Promise?
Our Love Promise can be seen in various partnerships with local charities and non-profits. We're grateful for the opportunity, not only to be a part of our community, but to serve it as well.
Indiana County Humane Society
Indiana County School District
Indiana County Community Action Program
Indiana Regional Medical Center
Love Promise Stories from Delaney Subaru
Subaru and Delaney Subaru believe in making a positive impact on the communities in which we live and work. We uphold that belief through our Love Promise Community Commitment. Every month, we select inspiring stories from customers and partners from around our area who strive to support our collective commitment and feature them here
Delaney Subaru collects items for local charities - Kelly L
In consideration of the previous year and the effect it had taken on our local community Delaney Subaru collected items for two local organizations that are there for anyone when they need it most. A food and supply drive benefiting Indiana County Humane Society and ICCAP's foodbank was held starting in November running through the end of year in 2021. We collected nonperishable food items, paper goods, cleaning supplies, pet foods, kitty litter, pet toys, leashes, collars, & office supplies for both of these local charities. Donations were dropped off at the showroom or service drive. All of the donations will stay in Indiana County. Thank you to those who donated to make this drive a success! Additionally thank you to the volunteers at both of these organizations who are truly the everyday hometown hero's helping those in need when they need it the most right here in our neighborhood!
---
We Love to Learn with Ben Franklin Elementary! - Kelly L
Delaney Subaru is proud to announce that as part of our Love Promise commitment we partnered with AdoptAClassroom.org as our new Subaru Loves Learning partner. Through the partnership with AdoptAClassroom.org, Delaney Subaru we were able to help supply classrooms locally at Ben Franklin Elementary. Ben Franklin recently built a beautiful outdoor learning space for their students. The monetary donation that was made was able to help one classroom for every grade at Ben Franklin to help with all types of learning supplies for their new outdoor classroom space. We enjoyed the day meeting Ben Franklin's awesome staff and students and how they intend to use their new outdoor space. Adopting classrooms At Ben Franklin through Subaru Loves Learning is just one of the ways we are doing even more this year to make a difference.
---
Indiana County Community Action Program (ICCAP) - Michelle F
Delaney Subaru has partnered with Indiana County Community Action Program, Inc. (ICCAP) for the second year in a row to provide blankets for the homeless.ICCAP operates Pathway; a 12-bed emergency homeless shelter located in Black Lick, PA. Pathway receives over 400 referrals a year and provides emergency shelter to over 150 homeless individuals on average annually. ICCAP's goal for all Pathway residents is for them to obtain safe affordable housing and progress towards self-sufficiency. Through Delaney Subaru's generosity, we are able to provide blankets to homeless individuals and families, of which, they can take with them to their new home. In addition, for those who may be on the streets, and uncomfortable with entering any shelter, they too will receive blankets.On behalf of ICCAP and the Homeless we serve, THANK YOU!Michelle Faught, Executive Director
---
Helping the Underdogs in Indiana, PA! - Kelly L
We had a great visit with our friends at Indiana County Humane Society. We dropped off some donations and met some adoptable pets. As always Samantha the Humane Officer and her team work alongside these pets to provide them a new forever home. Beth Finegan the new Executive Director is doing a great job leading the team and keeping the day to day operations in check. Samantha, Beth, and the entire team do a great job and we are proud to share in this partnership with local shelter and help make a difference in the local underdogs. We reached our goal of 31pets in 31 days and 40 total pets were adopted in October.
---
Why We Do What We Do - Stormy's Story - Beth F
During the month of October, the Indiana County Humane Society adopted 40 animals to their fur-ever homes. The success of our October adoption event was directly tied to our partnership with Delaney Subaru who supported us with social media postings and promotions. We'd like to share a story of one of our dogs from our shelter family that was adopted during October's Subaru Loves Pets event – a long-term resident at the shelter, a bull mastiff named Stormy. Stormy became homeless in April of 2018 as a result of her owner surrendering her to the shelter. For the next 3 years our shelter staff took care of Stormy – every day feeding her, walking her, playing with her, exercising her, washing her sleeping blankets and bed, and taking her to the vet for appointments. This October, Stormy's adoptive family walked into her life, and she walked into their lives. It was a match made in heaven. Here's a photo of Stormy and a letter from her family that truly expresses why our staff and volunteers do what they do at the Indiana County Humane Society. We are grateful for the ongoing support and generosity of Delaney Subaru and are thrilled to share Stormy's successful adoption into her fur-ever home.
---
Delaney Subaru Loves To Help ICCAP Shelter - Kelly L
We had the great pleasure of delivering blankets to ICCAP Homeless Shelter as part of our Subaru Loves to Help local initiative. Last November, Subaru dealers delivered a total of 50,000 blankets to homeless shelters in November of 2020. This year we are joining forces again and are proud to be part of the local delivery to be part of the 100,000 blankets being delivered this November across the country. We would like to give a special shout out to Vicki and her team at the ICCAP office who are helping local individuals daily right here in Indiana County go through one of the toughest times in their lives. Your tireless work to our community is greatly appreciated and does not go unnoticed! Thank you for doing what you do! Pictured left to right is Holli Canton Delaney Subaru Sales Consultant, Vicki Allen - ICCAP Shelter Manager, & Barre Bell - Delaney Auto - General Manager
---
Delaney Subaru Helps Out Local Humane Society - Kelly L
It was an exciting day at Delaney Subaru as we presented our 2nd Share the Love contribution check today to Indiana County Humane Society! We thank all of the new Subaru owners who purchased between November 2020 and January 2021 who chose this great organization! We have had the pleasure of working with the team at the Humane Society on multiple events and know that this would help out with their daily expenses! We appreciate all the hard work they do for our communities four footed underdogs! In the photo from L-R are Mark Moses - Delaney Subaru Sales Mgr., Andy Gnibus - Delaney Subaru Sales Associate, Samantha McCoy - ICHS Humane Officer, Mara Shields - ICHS Marketing, Barre Bell - General Manager - Delaney Auto Group, Mike Black - Sales Mgr. - Delaney Subaru.
---
Delaney Subaru Races to the Finish with Boy Scouts - Kelly L
We would like to thank the Chestnut Ridge Boy Scout District for inviting us to be part of their district Pine Wood Derby. We had a great time meeting everyone and enjoyed watching the races. The cars were all awesome and all of the kids did great. Also a huge shout out to Kovalchick Convention and Athletic Complex for being our host site since we couldn't be on site at Delaney Subaru!
---
Delaney Subaru Partners with Hopeful Hearts - Kelly L
It was an exciting morning so far at Delaney Subaru! We had the great pleasure of presenting Hopeful Hearts of Indiana, PA with their portion of contributions from the 2020-2021 Share The Love Campaign. This was Delaney Subaru's 8th year of partnering with Hopeful Hearts. This donation is made possible by our new Subaru buyers each year during November through January. Thank you to everyone who purchased during this time period! The mission of Hopeful Hearts is to improve the lives of grieving children and their families by providing support in a safe and caring environment, where all are welcome, and where families can grow through the healing process. Pictured in the photo from left to right are Mark Moses -Sales Manager Delaney Subaru, Andy Gnibus Sales Associate - Delaney Subaru, Betsy DeGory -Hopeful Hearts, and Laura McLaine - Program Coordinator Hopeful Hearts, and Barre Bell - General Manager Delaney Automotive Group.
---
Delaney Subaru Delivers a Random Act of Kindness! - Kelly L
It was a busy cold morning at Delaney Subaru as we loaded up a fleet of Subarus and delivered some surprise treats to Indiana School District School staff members in honor of National Random Acts of Kindness Day. We visited Indiana Area High School, Indiana Area Junior High East Pike Elementary School, Ben Franklin Elementary School, Dwight D Eisenhower Elementary School, & Horace Mann Elementary School. We enjoyed meeting everyone and appreciate all your efforts as you continue to educate our youth! Also a special shout out to Amber and her amazing team at the Ben Franklin Sheetz and Dorthea and the early morning bakers at Oakland Avenue Dunkin' for all of your help in coordinating this with us! #SubaruActsofKindness.
---