The 2021 Subaru Love Promise Customer and Community Commitment Award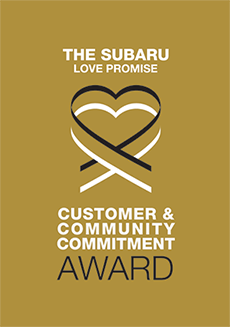 We've been nationally recognized for our dedication to our customers, our community, and the Subaru Love Promise.
We're honored to receive the 2021 Subaru Love Promise Customer and Community Commitment Award. This award nationally recognizes elite Subaru retailers who provide an exceptional customer experience at every interaction with Subaru. These retailers have also demonstrated an outstanding commitment to supporting passions and causes in their local communities in important areas such as the environment, community, health, education, and pets.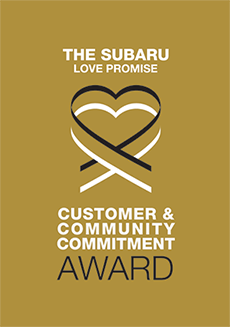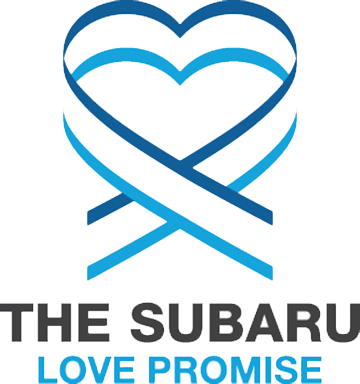 What is the Subaru Love Promise?
Subaru and our retailers believe in making the world a better place and the Subaru Love Promise is our vision of respecting all people. This is our commitment to show love and respect to our customers and to work to make a positive impact in the world.
How is Delaney Subaru dedicated locally to the Love Promise?
Our Love Promise can be seen in various partnerships with local charities and non-profits. We're grateful for the opportunity, not only to be a part of our community, but to serve it as well.
Indiana University of Pennsylv
Hopeful Hearts of Indiana PA
Love Promise Stories from Delaney Subaru
Subaru and Delaney Subaru believe in making a positive impact on the communities in which we live and work. We uphold that belief through our Love Promise Community Commitment. Every month, we select inspiring stories from customers and partners from around our area who strive to support our collective commitment and feature them here
Delaney Subaru Helps Out Local Humane Society - Kelly L
It was an exciting day at Delaney Subaru as we presented our 2nd Share the Love contribution check today to Indiana County Humane Society! We thank all of the new Subaru owners who purchased between November 2020 and January 2021 who chose this great organization! We have had the pleasure of working with the team at the Humane Society on multiple events and know that this would help out with their daily expenses! We appreciate all the hard work they do for our communities four footed underdogs! In the photo from L-R are Mark Moses - Delaney Subaru Sales Mgr., Andy Gnibus - Delaney Subaru Sales Associate, Samantha McCoy - ICHS Humane Officer, Mara Shields - ICHS Marketing, Barre Bell - General Manager - Delaney Auto Group, Mike Black - Sales Mgr. - Delaney Subaru.
---
Delaney Subaru Races to the Finish with Boy Scouts - Kelly L
We would like to thank the Chestnut Ridge Boy Scout District for inviting us to be part of their district Pine Wood Derby. We had a great time meeting everyone and enjoyed watching the races. The cars were all awesome and all of the kids did great. Also a huge shout out to Kovalchick Convention and Athletic Complex for being our host site since we couldn't be on site at Delaney Subaru!
---
Delaney Subaru Partners with Hopeful Hearts - Kelly L
It was an exciting morning so far at Delaney Subaru! We had the great pleasure of presenting Hopeful Hearts of Indiana, PA with their portion of contributions from the 2020-2021 Share The Love Campaign. This was Delaney Subaru's 8th year of partnering with Hopeful Hearts. This donation is made possible by our new Subaru buyers each year during November through January. Thank you to everyone who purchased during this time period! The mission of Hopeful Hearts is to improve the lives of grieving children and their families by providing support in a safe and caring environment, where all are welcome, and where families can grow through the healing process. Pictured in the photo from left to right are Mark Moses -Sales Manager Delaney Subaru, Andy Gnibus Sales Associate - Delaney Subaru, Betsy DeGory -Hopeful Hearts, and Laura McLaine - Program Coordinator Hopeful Hearts, and Barre Bell - General Manager Delaney Automotive Group.
---
Delaney Subaru Delivers a Random Act of Kindness! - Kelly L
It was a busy cold morning at Delaney Subaru as we loaded up a fleet of Subarus and delivered some surprise treats to Indiana School District School staff members in honor of National Random Acts of Kindness Day. We visited Indiana Area High School, Indiana Area Junior High East Pike Elementary School, Ben Franklin Elementary School, Dwight D Eisenhower Elementary School, & Horace Mann Elementary School. We enjoyed meeting everyone and appreciate all your efforts as you continue to educate our youth! Also a special shout out to Amber and her amazing team at the Ben Franklin Sheetz and Dorthea and the early morning bakers at Oakland Avenue Dunkin' for all of your help in coordinating this with us! #SubaruActsofKindness.
---
Delaney Subaru donates warm blankets to ICCAP! - Kelly L
Through the Subaru Love Promise we had the pleasure of dropping off over 100 warm blankets on November 17th to the Indiana County Community Action Program, Inc Homeless Shelter as we recognize National Homeless Youth Awareness Month. More than 500,000 Americans experience homelessness each night and as we enter the season of giving and nights get colder, we know the blankets will be very much needed and used right here in Indiana County. Pictured are Andy Gnibus Sales Associate at Delaney Subaru, Vickie Allen ICCAP Shelter Director, and Barre Bell General Manager Delaney Automotive Group. The Delaney Subaru Family would like to thank Vickie and her team at ICCAP for the support and services that they provide for those in need in our community!
---
Delaney Subaru Helps Homeless Pets Again - Mara S
It takes a community to help those in need. Delaney Subaru has made it clear that they are invested in keeping the Indiana, PA area the best it can be. Again this year they collected supplied for the Indiana County Humane Society during the Subaru Loves Pets Event in October 2020. These donations, including food, bedding, toys, and cleaning supplies, are going to helping over 100 homeless animals that have been given a second chance at life.
---
Delaney Subaru fills a Subaru full of pet supplies - Kelly L
In our efforts to contribute to the community that we live and work in Delaney Subaru collected pet supplies for Indiana County Humane Society in there recent Subaru Loves Pets Event. These donations directly affected over 100 orphaned pets at the shelter. Delaney Subaru employees, customers, and community members filled a 2020 Subaru Ascent with pet supplies. Supplies included feed, treats, cleaning supplies, bedding, toys, and leashes. Indiana County Humane Society accepted the donations on behalf of the orphaned pets. Featured in the photo from left to right are Humane Society employee, Beth Finnegan Executive Director of Indiana County Humane Society, and Andy Gnibus Sales Associate of Delaney Subaru.
---
Delaney Cares: Comforting Cancer Patients - Breanna S
Delaney Subaru once again partnered with the Indiana Regional Medical Center (IRMC) to donate blankets and messages of hope to cancer patients undergoing treatment in the Indiana, PA, area. The team at Delaney saw the need to make patients more comfortable during treatment, and worked together in conjunction with The Leukemia & Lymphoma Society (LLS) as part of the "Subaru Loves to Care" program this summer. The goal of the program is to help people live healthier lives. The staff at IRMC was excited to receive the 80 blankets, delivered with care by Delaney Subaru General Manager Barre Bell, Subaru Delivery Specialist Anna Mensch, and team member Kelly Lute. The blankets will be helpful because many patients get cold due to their condition or as a side effect of their medication. IRMC is less than 10 minutes from the dealership, meaning that Delaney Subaru was able to give this gift to their neighbors in their time of need. All of us at the Western PA & WV Chapter of LLS are extremely grateful to Delaney Subaru and Subaru of America for partnering with us to spread love, hope, and warmth to cancer patients right here in our own hometowns. Pictured (L-R): Angela Austin (LLS Patient Access Manager), Heather Reed (Executive Director, Indiana Healthcare Foundation), Barre Bell (General Manager, Delaney Subaru), Vincent Lucchetti (IRMC Cancer Center Practice Manager), Heather Harkleroad (Executive Assistant, Indiana Healthcare Foundation), Anna Mensch (Delivery Specialist, Delaney Subaru), and Kelly Lute (Digital Marketing, Delaney Subaru).
---
Hope and healing - Betsy D
The Visiting Nurse Association's (VNA's) Hopeful Hearts program is grateful to Delaney Subaru in Indiana, PA, for its seventh straight year of support to grieving children and adolescents. Proceeds from Subaru's annual Share the Love Event have helped scores of children and parents to find hope and healing in the safety of peer-supported family sessions. This year in particular, two young fathers and their children are navigating the devastating loss of their young mothers.Thank you, Delaney Subaru, for having such a heart for this important mission!Shown here are some of this year's participants with the shadow boxes they created in their loved ones' memories.
---
Subaru Sponsors Merakey Allegheny Valley School - Dorothy H
On behalf of Delaney Subaru, in conjunction with the Pittsburgh area Subaru retailers, and Subaru of America, a $1,000 donation was presented to the Merakey Allegheny Valley School in Coraopolis, PA. The donation was presented to Dorothy Hunter Gordon, Executive Director for the School during the Pittsburgh Vintage Grand Prix Association's sponsorship night. Dorothy said she is pleased to have Delaney Subaru, the Pittsburgh area retailers, and Subaru of America partner with the school. Merakey Allegheny Valley School (Merakey AVS) is a non-profit organization which provides homes and a full range of services to individuals with all levels of intellectual and developmental disabilities (IDD). The majority of the more than 800 individuals in our care are diagnosed with severe or profound IDD. In addition, most of the people we serve have multiple physical disabilities, extensive medical complications and may require supports for challenging behaviors. Merakey AVS operates facilities in nine Pennsylvania counties: Allegheny, Beaver, Bucks, Butler, Dauphin, Lebanon, Mercer, Montgomery, and Philadelphia. In the photo left to rightAllegheny Valley School Ambassador Tony, School Volunteer Rita Christner, Executive Director Dorothy Hunter Gordon, Subaru of America Jim Hoffman, Allegheny Valley School Ambassador Liz, School Volunteer Ray Christner
---